Canberra relseased the NEW 190 and 491 nomination eligibility
Canberra relseased the NEW 190 nomination eligibility and 491 nomination eligibility today, which come into effect on 01/01/2020. NewStars participated in the whole process of release Conference. Here are some important information you need to know.
The allocation of state nomination quota would be 1200 for 190 and 200 for 491 (1400 in total) in this financial year. Canberra government might request for more quota and allocate more to 491 if there is not enough 190 applications.
For 190 (Canberra Resident)
Applicants must meet six months fulltime (minimum 35 hours pw) continuous paid employment in Canberra at date of matrix submission; AND
Must meete one of the following three criterion:
Nominated occupation is open on the ACT Occupation list (don't forget the caveats); or

Primary 457/482 visa holder sponsored by an ACT employer (at least 1 year visa validity at date of Matrix); or employer (at least 1 year visa validity at date of Matrix); or

Five years continuous ACT residence at date Matrix submission.
For 190 (Overseas applicant )
Applicants must meet one of the following two criterion:
1. A minimum one year ACT employment contract in an 'OPEN' nominated occupation. The employment must be with a medium to large enterprise (50 plus employees) located in the ACT; or an academic appointment at an ACT tertiary institution.
Or
2. At least five years previous ACT residence within the last eight years. The ACT residence must be continuous until the date of departure from Australia. The nominated occupation may be open or closed on the ACT occupation list.
For 491 (eligibility criterias are very similar to current 190)
Minimum three months ACT residence immediately before the date of Matrix submission and continuing until date of any invitation. Residence is defined as living and settle in Canberra. Visiting Canberra for short periods does not meet the residence criteria.

Three months continuous employment (minimum 20 hrs per week) immediately prior to matrix submission.
Nomination summary up to the most recent round
617 nominations approved- 207 refused (824 total)
ACT residents: 504 (118 refused or 19%)
Overseas: 104 (88 refused or 45%)
PhD streamlined: 9 (1 refused)
Canberra Resident statistics

Nominated Occupation:

– Open: 38%

Employment- Length

– 12 months: 52%

– 6 to 12 months: 28%

ACT Residence

– 4 years plus: 24%

– Less than 2 years: 51%

Study in Canberra:

– 1 year study: 33%

– 2 to 3 years study: 40%

– 4 years plus: 8%

Employment- Highly Skilled

– Open occupations: 22%

– 457/482 visa holders: 4%

– ANZSCO 1 to 3: 18%

Spouse occupation claimed:

– Highly skilled: 4%

– Tertiary qualification: 19%

– Currently working in any occupation: 22%

Investment Assets: 0.2%

Close ties:

– Sibling: 6%; Spouse/partner: 3%
Suggestions to avoid refusals from officials
Remember, you must evidence eligibility and the matrix score claimed at date of matrix submission.

If you know that your client is not eligible (e.g. Canberra residents not meeting the employment, residence or English criteria) do not submit the application.

If you can't easily evidence the Matrix point claimed (at date of submission), don't claim it.

Candidates with a matrix score of 70 and over are highly likely to receive an invitation in an upcoming round. If you don't have to claim points e.g. length/ type of employment, you don't have to provide evidence.

Refusing applications is triple the work load and means less applications can be assessed.
What's happening next
New 190/491 nomination criteria in effect 1 Jan 2020.

The ACT Occupation List will be updated in 1 January 2020.

CCYF website will be decommissioned within 6 months.

New online 'smart forms' will be implemented by July 2020.

Home Affairs allocation 2020 -21: preference to be given to provisional 491 nomination.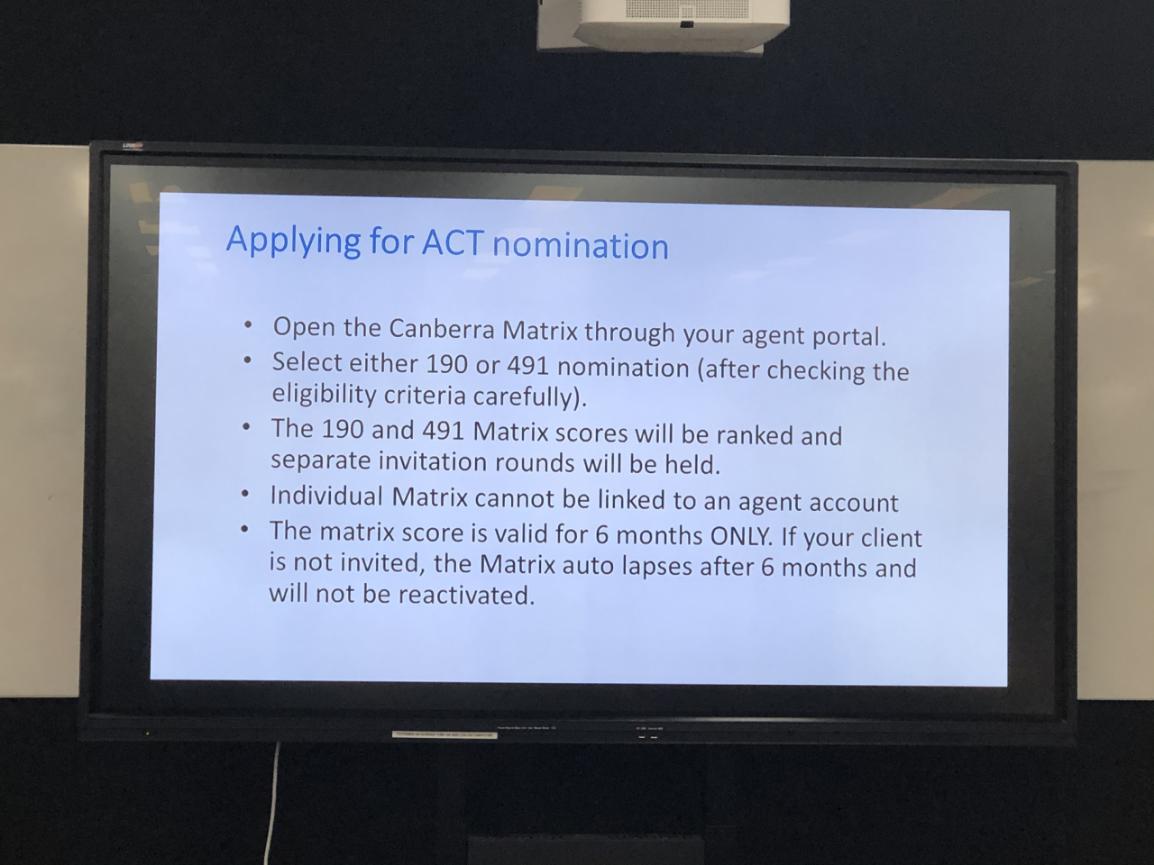 Applying for ACT Nomination
Open the Canberra Matrix through your agent portal.

Select either 190 or 491 nomination (after checking the eligibility criteria carefully).

The 190 and 491 Matrix scores will be ranked and separate invitation rounds will be held.

Individual Matrix cannot be linked to an agent account

The matrix score is valid for 6 months ONLY. If your client is not invited, the Matrix auto lapses after 6 months and will not be reactivated.
Please remember, all changes would come into effect on 01/01/2020. The next matrix invitation would hold on or before 20/12/2019.